ConnectW is pleased to welcome Rachael Scdoris to our monthly Meeting in May!
Title:  Seeing The Possibilities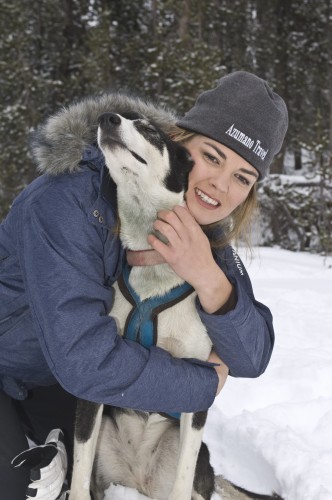 Inspirational endurance athlete and advocate for the visually impaired Rachel Scdoris shares her story of perseverance and overcoming obstacles on the road to success as a legally blind Iditarod racer.  Come prepared to be inspired and entertained as she shares pictures, dog stories, and her own personal triumph in an event where she was told from the beginning "there's no way"!
Speaker:
Rachael Scdoris is a professional sled dog racer, Paralympics hopeful and inspirational endurance athlete from Bend, Oregon. Rachael was born with Congenital Achromatopsia, a rare vision disorder causing near sightedness, far sightedness and colorblindness. As a young girl, Rachael made the decision not to allow her impaired vision to stand in the way of her dreams,
and has been racing sled dogs since age 11.
Since childhood, Rachael's dream had always been to compete in the acclaimed Iditarod – the super bowl of sled dog racing. After a high profile public debate in 2003, the Iditarod Trail Committee made a landmark decision to approve Rachael's request for special accommodations that would allow her and her dog team to compete safely in the Iditarod.
Rachael successfully qualified and went on to make history in 2005 as the first visually impaired
athlete to compete in the Iditarod. But, despite successfully navigating the most treacherous
sections of the Iditarod trail, Rachael's race ended in disappointment.
However, Rachael returned in 2006 and realized her lifelong dream by becoming the first legally blind athlete to finish the Iditarod. After 12 days, 10 hours and 42 minutes on the trail, Rachael and her visual interpreter, Tim Osmar, passed beneath the wooden structure, known as the
Burled Arch marking the finish line. The duo finished in 56th and 57th place, and Rachael finished 7th out of the 20 rookies who started the race. In partnership with Standard Insurance Company, Rachael's 2006 Iditarod campaign raised more than $100,000 in donations to the United States Association of Blind Association for programs supporting participation opportunities for other visually impaired athletes.
Rachael's story of hope, courage and determination has attracted tremendous national and
international media attention, as well as thousands of messages of support from inspired people
across the world. During her career, Rachael has been featured in numerous newspapers,
magazines and national TV and Radio shows, including being recognized by Peter Jennings' as
ABC World News Tonight's "Person of The Week".
Rachael has also been formally honored by various organizations including the Women's Sports Foundation, Oregon Commission for the Blind, The Goodwill Industries, The Foundation Fighting Blindness, National Association of Girls and Women in Sport, The Perkins School for the Blind, and nominated for an ESPN ESPY award, and the prestigious Congressional Medal of Honor Society's "Above and Beyond" Award. In 2002, Rachael was selected by the USOC to carry the torch to the Winter Olympic Games in Salt Lake City.
Rachael was the proud recipient of the 2005 Casey Martin Award, created by Nike in 2001 to recognize the efforts of athletes who, like PGA Tour Golfer Martin, have overcome remarkable challenges to excel in their sport, and advocate on behalf of other athletes facing similar challenges. Rachael donated the $25,000 Nike Grant to the U.S. Association of Blind Athletes. In 2006, Rachael was also honored by Glamor Magazine as one of their Women of the Year. In June 2010, Rachael was honored by the American Federation for the Blind as a recipient of
the Helen Keller Achievement Award. Rachael was recognized for "extraordinary efforts to improve the quality of life for people with vision loss".
More recently, Rachael has continued to build on her reputation as an elite endurance athlete.
Rachael was honored to be invited to compete in the Femundløpet race in Norway, which was
serving as the 2011 International Federation of Sled Dog Sports (IFSS) long distance World
Championship race.
In 2011, Rachael also resumed serious training for her summer endurance sport pursuit of tandem cycling. After an intense Spring training regimen, Rachael and her pilot only narrowly missed winning the 2011 National Cycling Championships in her class by a margin of only 1/100th of a second. This performance attracted the attention of USA Cycling who invited Rachael to join their elite Team USA cycling program. Rachael spent time training at the USOC training center in Colorado Sprints and went on to take 1st the road race and 3rd  place in the time trial at the 2012 national championships.
Presently, Rachael continues to pursue her passion as an endurance athlete on both the sled and the bike, and looks forward to a new set of challenges and opportunities to help inspire others to overcome the challenges in their lives.