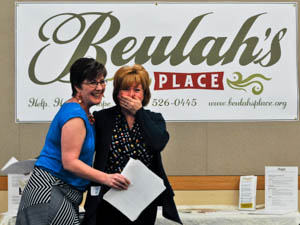 Every winter ConnectW organizes an annual fundraising event to benefit another local non-profit organization. Over the last two years, we've raised more than $17,000 for Meadowlark Manor and Oregon Adaptive Sports. During this winter's Holiday Gala, all funds raised will benefit Beulah's Place.
About Beulah's Place
After noticing homeless teens of Central Oregon living under bridges and on the streets, the dream of Beulah's Place became a reality for Andi and Ed Buerger. Today, the mission of Beulah's Place is to safeguard homeless teens from sexual exploitation by criminals and predators. Beulah's Place not only provides these teens a place of refuge, it provides help, healing, and hope, by giving the youth food, shelter, education, and work and life skills counseling. Teens who find Beulah's Place learn that their past does not have to define their future.
This year's event will be held at The Seventh Mountain Resort on Friday, December 12th at 5:30pm.  There will be plenty of music, dancing, great food, a commemorative photo lounge, and live and silent auctions. If you are interested in attending, tickets will be available for purchase in October for $30, per ticket. Tickets for this event will sell out, so buy your tickets as soon as they are available.
Continued success of this event depends on our loyal community partners and caring ConnectW members. Please consider donating a product or service to be auctioned off to community members attending this event, being an Event Sponsor, or to join our Gala Challenge.
Donations
We have started early this year so we have more time to organize and prepare for the event. Our team members are currently accepting donations for our auction. Each donation of any size helps us raise money for Beulah's Place. If you have a donation you can drop it off at Fabulous Finds; 190 NE Irving Avenue, Bend – Wednesday through Saturday. Donations will not be accepted after October 31st.
Event Sponsors
Our goal is to give 100% of the money we raise directly to Beulah's Place. The only way this is possible is to have Event Sponsors. If you or your business is interested in being an Event Sponsor, please let us know. The reward of being an Event Sponsor is twofold—your sponsorship will allow us to give 100% of the event proceeds directly to Beulah's Place, and your company will receive exposure for its contribution prior to, and during, the event in all of our marketing materials.
Gala Challenge
If you would like to be involved in the short term, you can join our Gala Challenge! There are two challenges currently going on, and the winners of both will receive a one night stay at the Seventh Mountain Resort the night of the gala. Whoever raises the most money in Event Sponsors, or highest dollar amount in Donations… wins! The challenge began the beginning of June and it ends on July 30th – You still have time to join in!
Please take a moment to consider joining our Gala Challenge or to make a contribution to our auction. If you have any questions, please do not hesitate to contact Amanda Albrich, events@connectw.org or (541) 848-8598.  We really hope that you will be a part of making this special evening a blast. Don't forget to mark your calendar!